Norafizal, Arif Isyraf (2020) Effects of Vacuum Bagging Techniques on Mechanical Properties of CarbonEpoxy Laminates. [Final Year Project] (Submitted)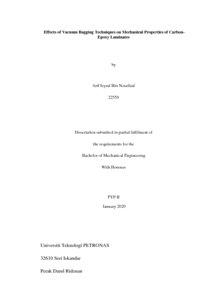 Preview
PDF




Dissertation Arif Isyraf 22558.pdf


Download (1MB) | Preview
Abstract
Conventionally, composite laminates were manufactured by applying vacuum bagging
setup in an autoclave machine. However, the process needs a long production time and
requires high-cost equipment. Alternatively, vacuum-bagging-only techniques are
introduced as it does not require an autoclave vessel for the manufacturing procedure.
However, this alternative suffers from manufacturing-induced defects such as void
formation which will affect the mechanical properties of the produced laminates. This
study investigates the effects of vacuum-bagging techniques and curing profiles on the
void formation of carbon-epoxy laminates with complex shapes.
Actions (login required)