Me'eraj, Abdul Rasyid (2020) Risk Analysis of Domino Effect Due to Fire in Petroleum Plants. [Final Year Project] (Submitted)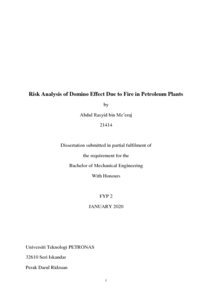 Preview
PDF




FYP_Dissertation_21414.pdf


Download (1MB) | Preview
Abstract
Fire accidents in petroleum plants are one of the common issues that happen in the industry
nowadays. The facilities and equipment in petroleum plants have the risks to involve in
accidents specifically fire accidents. These accidents first started as single event then they can
spread leading to a domino accident. Fire domino accident have a great impact on a
petroleum plant causing the loss of properties and fatalities. The common type of fire
accidents that occur in the industry is pool fire. Fire domino can be categorized into three
parts: primary event, escalation and secondary scenarios.
Actions (login required)