SINKARAM, CHELLADURAI (2013) LITHIUM-ION BATTERY DISCHARGING CURRENT CHARACTERISTICS. MODELING APPROACH. Masters thesis, UTP.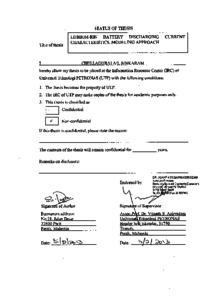 Preview
PDF




2013-ELECTRIC-LITHIUM-ION BATTERY DISCHARGING CURRENT CHARACTERISTICS MODELING APPROACH-CHELLADURAI AL SINKARAM.pdf


Download (4MB) | Preview
Abstract
Battery-powered electronics devices have become ubiquitous in the modern society.
The recent rapid expansion of the use of portable devices (e.g. portable computers,
personal data assistants, cellular phones, shavers, etc) and Hybrid Electrical Vehicles
(HEVs) creates a strong demand for fast development ofthe battery technologies at an
unprecedented rate. With growing usage of portable electronics it has become
important in the recent decades to find an energy storage device which has high
specific power with minimum charging timing. Currently the most widely used power
source for the portable electronic devices is Lithium- Ion batteries as it has high
voltage, power density and high cycle time.
Actions (login required)