Zainon, Muhammad Kamal Rizal (2017) Development of moving object detection and tracking. [Final Year Project] (Submitted)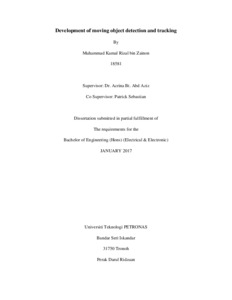 Preview
PDF




final dissertation 1.pdf


Download (1MB) | Preview
Abstract
Object detection is a process of locating and identifying the position of object in the frame of a
video sequence. While object tracking is the process of locating the object of interest over time in
the sequence of video frame. The steps of object detection and tracking is start with detection of
object of interest, followed by tracking of the object over time and lastly the analysis of trajectory
of tracked object. Object detection and tracking have been implemented mostly in the field of
control, security and surveillance like vehicle navigation and human robot interaction. But, object
detection and tracking is not perfect as problems still emerged such as dynamic background, for
multiple objects and expensive computational hardware. This work explores the commonly used
object detection and tracking technique. The suitable method for static camera was implemented
in Matlab and OpenCV on a sample pedestrian video. In the end, the results of both software were
shown.
Actions (login required)