Adjayeng, Gerardo Ondo Micha (2017) VARIABLE FREQUENCY DRIVE (VFD) DESIGN IMPROVEMENT TO SURVIVE DURING VOLTAGE DIP. [Final Year Project] (Submitted)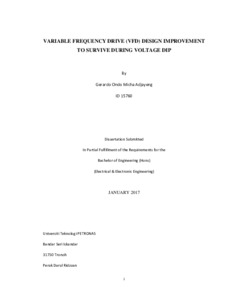 Preview
PDF




FYP II G Report.pdf


Download (2MB) | Preview
Abstract
Variable Frequency Drive Design (VFD) improvement to survive during voltage dip is
an open and yet interesting area of research given the importance and impact of VFD
trip in modern industries. Improving the design of a VFD that will keep the DC-link bus
voltage above the tripping value for the duration of the voltage dip is the very best
interest of this research. In order to fulfill the requirements of this study, a design that
includes a supercapacitor in the DC-link bus voltage will be proposed. The first stage is
to use Simulink software to examine the behavior of the VFD during voltage dip without
the proposed supercapacitor implementation. In the same sequence of events, a
supercapacitor will be introduced to the design to see and examine the ride-through
capability of the proposed method.
Actions (login required)