Mohd Zamri, Muhammad Adib Idzam (2021) Indoor Localization and Guidance using Augmented Reality Toolbox. [Final Year Project] (Submitted)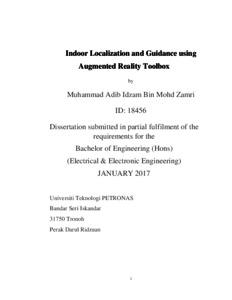 Preview
PDF




MUHAMMAD ADIB IDZAM_DISSERTATION.pdf


Download (2MB) | Preview
Abstract
In this era, new technology were used to ease user. Outdoor guidance uses
Global Positioning System (GPS) to pin point one's location and also and navigate him
through the map which downloaded from the Internet. Even so, outdoor guidance is not
effectively to apply to indoor guidance. The prime objective of this project is to develop
localized indoor guidance system which run in Augmented Reality (AR) mode. AR will
provide necessary information by overlaying them on the actual environment captured
by camera mounted on a smart glasses and able user to guide through a specific place.
Microcontroller Raspberry Pi is used to process the whole system. Instead just showing
user the directions, this project also focuses on embedded information on the markers
that generate AR images. This additional information can be obtained by user while
going through the navigation.
Actions (login required)