Yacob, Muhammad Zulkhairol (2017) Development of Graphene Based Field Effect Transistor (FET). [Final Year Project] (Submitted)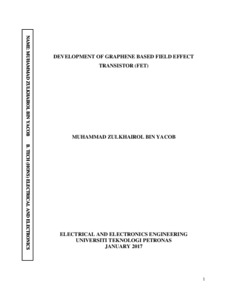 Preview
PDF




zulkhairol_18365_EE_hardbound.pdf


Download (1MB) | Preview
Abstract
he electronic and electrical properties of graphene have great potential for electronic
devices in future. Researchers and engineers exploiting the benefit of graphene to be
replaced or integrated together with current electronic device and semiconductor, thus
allow more smaller and faster electronic. It could be material that could break Moore's
Law limitation that predicts in 2021 the semiconductor fabrication feature size of
electronic devices such as short channel length and width will stop shrinking. In this
report, the fabricate and characterize graphene in FET (became Graphene based Field
Effect Transistor, GFET) on silicon wafer are demonstrated. There were two design of
GFET which is with Al2O3 material and SiO2 uses as insulator to separate drain, source
and gate by using atomic layer deposition (ALD) technique. By using all maximum
capability of facilities in UTP, I will be able to fabricate (GFET) and characterized the
properties.
Actions (login required)