BONG, DAVID CHUNG HUA (2017) REAL-TIME PLATOONING OF MOBILE ROBOTS: STUDY OF TRAJECTORY WITH OBSTACLE AVOIDANCE. [Final Year Project] (Submitted)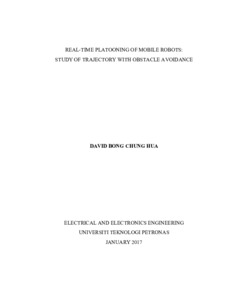 Preview
PDF




Final Dissertation (18427).pdf


Download (18MB) | Preview
Abstract
Robot platooning is a robot positioning method, whereby a few robots will be
moving in formation. Platooning has been a very commonly discussed technique
especially for its applications on vehicles. However, up until now, it still has many issues
that are preventing it from being implemented in real life and one of them is its irregular
trajectory in the maintaining phase. In this project, study will be made on the real-time
platooning trajectory in its maintaining phase under the most two common factors in real
life, which are changes in velocity and presence of obstacle. By studying its performance
under the mentioned factors, this project aims to contribute by having algorithm that can
improve the platooning trajectory during its maintaining phase.In order to do so, two
robotic cars are used as models to simulate real vehicles.
Actions (login required)