LOH, JEREMY GUO XIANG (2017) EEG SIGNAL ANALYSIS FOR HUMAN EMOTIONAL INTELLIGENCE. [Final Year Project] (Submitted)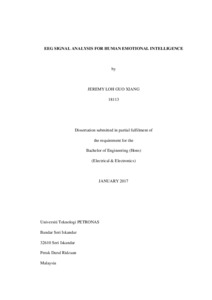 Preview
PDF




FYP_dissertation.pdf


Download (1MB) | Preview
Abstract
Emotional intelligence plays an important role in human daily life. To date,
most evaluation for emotional intelligences are being assessed through pen and paper
based psychometric assessment and facial recognitions. These are subjective as the
assessment performed are based on feelings or opinions of the participants to identify
their level of emotional intelligence. This leads to the need of assessing emotional
intelligence, brainwaves, and the correlation between them for objective based
assessment.
In this project, the aim is to investigate the correlation between emotional
intelligence and human brainwaves. The integration between an Arduino and Mindflex
headset is carried out to measure one's brainwaves in respect to emotional intelligence.
The system is utilized to observe and analyse patterns of emotional state of the
participants while undertaking emotional Stroop test which is a test for the participants.
They will be categorized into three groups which is average, higher than average and
lower than average emotional intelligence. Subjects with higher level of emotional
intelligence tend to have higher brainwave activity in the alpha and beta region. Brain
activity increases with emotional intelligence.
Actions (login required)