SITTI KHADIJAH BT SHAHUL HAMID, SITTI KHADIJAH (2011) DEVELOPMENT AND MICROSTRUCTURAL ANALYSIS OF CARBON NANOTUBES REINFORCED COPPER MATRIX NANOCOMPOSITES USING PIM TECHNIQUE. [Final Year Project] (Unpublished)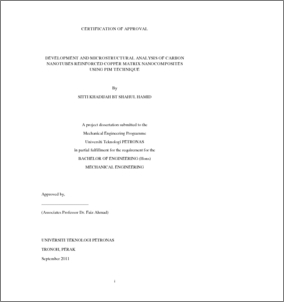 Preview
PDF
DISSERTATION_SITTI_KHADIJAH_BT_SHAHUL_HAMID.pdf
Download (1MB)
Abstract
The replacement of aluminum with copper in electronic industries had become breakthrough point. Due to copper's superior electrical conductivity, it enables conductor channel lengths and widths to be significantly reduced. The result is much faster operating speeds and greater circuit integration even up to 200 million transistors can be packed onto a single chip. Power requirements are now reduced to less than 1.8 volts. In recent years, thermal conductivity of electronic systems has been a significant issue. The reduction in material size becomes a challenge for electronic industry to produce high quality product with minimum cost. Nanostructure materials have attracted many researchers due to their outstanding mechanical and physical properties. While most researchers have focused on using CNTs to reinforce polymeric and ceramic matrices, CNT-reinforced metallic such as copper composites are quickly rising as attractive superior strength. In this work, powder injection molding techniques were used to produce
carbon nanotubes reinforced copper nanocomposite with unique mechanical properties. Pure copper (Cu) powder was mixed with multiwall carbon nanotubes (MWCNTs) to produce Cu-MWCNT composites. In the first phase of the work, Cu-
25 vol. % MWCNT composite powders were mixed using internal mixer machine along with the binder system (70 vol. % of paraffin wax, 25 vol. % of high density polyethylene (HDPE) and 5 vol. % of stearic acid. Thermal gravity analysis (TGA)
was used to evaluate the degradation temperature of the feedstock. The feedstocks then were processed into dumbbell shape using injection molding at 1600C. The samples then undergo solvent and thermal debinding process at different
temperatures and heating rates to obtain optimum parameter in producing defect free product. Next, the sample was sintered at different dwell time to obtain the best parameter. Finally characterization was done using FESEM to analyze Cu-CNT dispersion, powder morphology, CNT damage and phase analysis.
Actions (login required)