Nursyazwani binti Ramli, Nursyazwani (2011) Process Reliability Analysis of Gas District Cooling by Using Production Chilled Water Data. [Final Year Project] (Unpublished)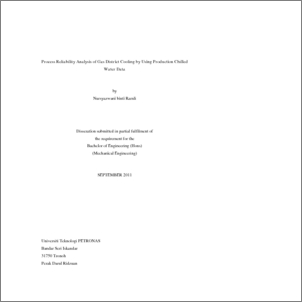 Preview
PDF
DissertationFYP_10950_ME.pdf
Download (2MB)
Abstract
This paper presents the process reliability analysis of Gas District Cooling plant by using production chilled water data. Variation in the production process occurs when there is a difference between the quantity of supply chilled water from the plant to the customer and the customer"s demand itself. So, the study aims to demonstrate the variation in the daily output of production chilled water and then been compared with the daily demand from the customer in order to analyze the process reliability of the system. In this study, the production chilled water data is analyzed based on the quantity that is supplied from the plant and the demand from the customer.
Process reliability is a helpful tool for testing either the system meets its requirement under assumed conditions over a certain period of time. The result of process reliability analysis will help the maintenance manager and staff to develop the proper maintenance strategy to increase future system availability, anticipate maintenance resource needs and provide long term savings in operations and maintenance costs.
Hence, Weibull analysis technique is introduced where the technique can clearly analyze the process reliability of chilled water and show the comparison between the supply and demand chilled water.
Actions (login required)