Mostafa Saleh Zakzouk, Mostafa Saleh (2011) Study of Multi Staging Operation of Swirling Fluidized Bed. [Final Year Project] (Unpublished)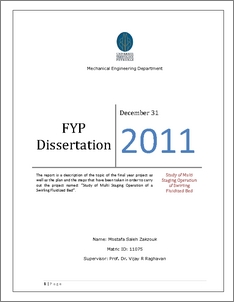 Preview
PDF
Mostafa_Saleh_Zakzouk_(ME_-_11075)_FYP_II_Dissertation.pdf
Download (1MB)
Abstract
The report is a description of the topic and the idea of the final year project as well as the plan and the steps that have been taken in order to carry out the project named: "Study of Multi Staging Operation of a Swirling Fluidized Bed".
Detailed design of a multi stage swirling fluidized bed that can be used for laboratory experimental purposes in UTP was provided with all the components, assemblies and functions descriptions. The design was evaluated for its efficiency and ability to meet flow requirements.
Residence time distribution was investigated for several stages of swirling fluidized bed using a mathematical model that provides an F(t) function that depends on the number of stages, system phase shift, coefficient of exponent and the average residence time.
The report contains a basic background about the swirling fluidized bed, the fluidization process, the definition of the main problem which centers on the residence time distribution for several stages of SFB, the objectives of the project, the methodology and the tasks to be taken in order to effectively achieve those objectives, a Gantt chart of the project life cycle as well as the results and the outcomes of the analysis.
Actions (login required)