O'G'LI, SAIDOLIM SAIDAKHROROV SAIDAKHROR (2010) NOVEL CARBON NANOTUBES-SUPPORTED Cu/ZnO/Al2O3 CATALYST FOR METHANOL SYNTHESIS. Masters thesis, UNIVERSITI TEKNOLOGI PETRONAS.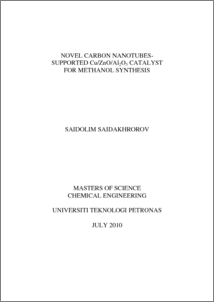 Preview
PDF
front_cover.pdf
Download (4kB)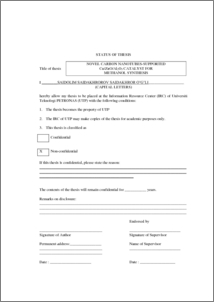 Preview
PDF
Status.pdf
Download (192kB)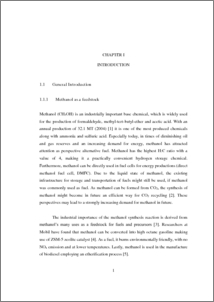 Preview
PDF
Thesis_correction.pdf
Download (4MB)
Abstract
Methanol is the bulk feedstock for chemical industry and nowadays emerges as a suitable environment friendly fuel. Conventional methanol synthesis process from synthesis gas employs Cu/ZnO catalyst which, however, shows a steady deterioration of chemical and mechanical properties over normally triennial service period. Carbon nanotubes are increasingly recognized as promising materials for upgrading and development of novel industrial catalytic processes, either as catalysts themselves, catalyst additives or supports. Nanocatalysts are finding an increased adoption in growing range of industries. In this study the activity of in-house made alumina supported Cu/ZnO catalysts doped with CNT (Carbon Nanotubes) was explored. The data on a performance of the catalyst in fixed bed tubular reactor were obtained under industrial conditions, 250°C and 30 bar. The surface morphology of novel catalyst type was visualized by Field Emission Scanning Electron Microscopy/Energy Dispersive X-ray analysis, Temperature Programmed Reduction, Low Energy Ion Scattering Spectroscopy, X-Ray Photoelectron Spectroscopy, X-Ray Diffraction, EFTEM (Energy Filter Transmission Electron Microscope) and compared with those of commercial fresh and used industrial Cu/ZnO catalysts. In-house made catalysts were treated with different concentration of Carbon Nanotubes, for study effect and activity of Carbon Nanotubes. The High Pressure Reactor Analysis system is made up of Multi tubular reactor with an on line gas chromatograph used to analyze the gaseous products from the reactor. From the studies of 1 and 2% CNT doped catalysts are showed a unique set of CO conversion rates. It was observed that the highest performance for CO hydrogenation rate come from the in-house made catalysts. The conversion rate of Industrial catalyst is much lower than 1 and 2% CNT. CO hydrogenation to methanol over the Cu/ZnO/Al2O3 catalysts doped on CNT showed that the supporter could significantly affect the activity of CO hydrogenation.
Actions (login required)