Mansor, Mohd Noor Hazman bin (2009) Study on CO2 Corrosion in Oil Producing Well. [Final Year Project] (Unpublished)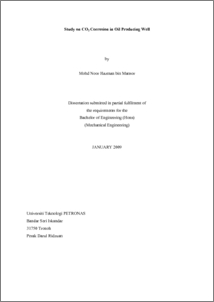 Preview
PDF
Report.pdf
Download (2MB)
Abstract
The purpose of this project is to study the CO2 corrosion in oil production wells and
the focus of the study will be on the tubing component of the production string. The
main objectives of the project are; a) To study the material used in a well production
string. b) To determine the average CO2 corrosion rate of a typical well production
string. As for the problem statement of this project, in oil and gas industry, CO2
corrosion has been a recognized problem in production and transportation facilities
for many years e.g. in the tubing string of an oil producing well. The corroded tubing
will cause leakage and tubing failure hence, disrupt oil production. The scopes of
study for this project consist of identifying the rate of CO2 corrosion during the
production life time of the tubing string and determine the factors leading to the CO2
corrosion. In order to provide a reliable prediction on the behavior of CO2 corrosion
on tubing steel, the project's methodology used Weight Loss Method using
Autoclave Machine and Linear Polarization Resistance Method (LPR) to simulate
the actual environment in the tubing during the oil production and analyze the CO2
corrosion rate. The laboratory experiments are conducted on API L 80 type steel.
The Weighted Loss Method is conducted in stagnant condition using 3 wt% NaCl
over a series of parameters which includes pressure = 10 bar, 40 bar and 60 bar,
pH=5 and temperature at 25 ̊C. The LPR method is conducted in flowing solution
using 3 wt% NaCl over a series of parameters which includes temperature = 25 ˚C,
40 ˚C and 60 ˚C, pH = 5 and pressure at 1 atm. All data were collected and analyzed
using Weighted Loss Method, LPR, SEM, OM and Hardness (Vicker) Test to
determine the CO2 corrosion rate and the effects on the L 80 steel. As for the
findings, the average CO2 corrosion rates in API L 80 steel yield from the laboratory
test ranges from 1.3 mm/yr to 4.7 mm/yr.
Actions (login required)