HASBULLAH, NOOR HERTIANA BINTI (2009) CONDITION MONITORING ANALYSIS ON POWER TRANSFORMER AT PETRONAS GAS BERHAD (PGB) MAIN SUBSTATION. Universiti Teknologi Petronas.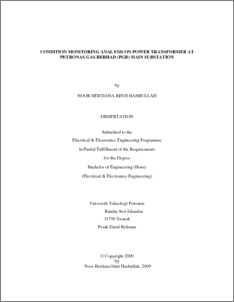 Preview
PDF
final_cover_page_report_fyp2_hertiana_7593.pdf
Download (17kB)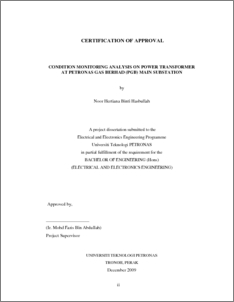 Preview
PDF
ABSTRACT_fyp2_hertiana_7593.pdf
Download (110kB)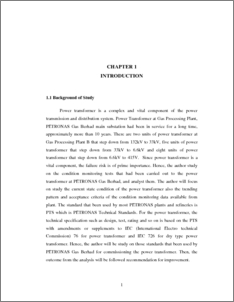 Preview
PDF
final_report_fyp2_hertiana_7593.pdf
Download (1MB)
Abstract
This report is the final report on study done and summary of the chosen topic, which is Condition Monitoring Analysis on Power Transformer at PETRONAS Gas Berhad (PGB) Main Substation. The objective of the project is to analyze the current state of condition of the power transformer using the condition monitoring data and to propose recommendations to mitigate the risk of failure. Power Transformer at Gas Processing Plant, PETRONAS Gas Berhad main substation had been in service for a long time, approximately 10 years. Since power transformer is a critical component of the power transmission and distribution system, the failure risk is of prime importance. The scope of study for this project are literature review on condition monitoring method on power transformer such as partial discharge, tan delta, oil analysis, sweep frequency response analysis (SFRA), ratio test analysis, dielectric test etc. Then, proceed with the analysis of the current state condition of the power transformer by studying the data trending pattern as well as acceptance criteria level of the condition monitoring data available from plant. Lastly, if abnormalities are found, then remedial action will be proposed to improve the condition of the power transformer.
Actions (login required)