ABD RAHMAN, ZAINUL ARIFFIN (2013) BATTERY PERFORMANCE MONITORING IN PHOTOVOLTAIC ELECTRICITY GENERATION SYSTEM (PVEGS). [Final Year Project] (Unpublished)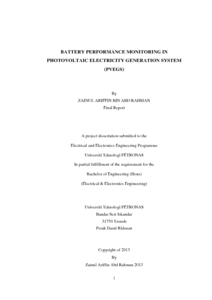 Preview
PDF




12232_FinRep.pdf


Download (845kB) | Preview
Abstract
Generation of electricity is dependent on combustion of fossil fuels such as natural
gas and coal. The emissions from the combustion of fossil fuels have led to serious
environmental and climatic problems such as global warming and air pollution. The
problems associated with fossil fuels initiated the interest to explore alternative
energy sources that are more environmentally friendly and sustainable for electricity
generation. One of the alternatives is using Photovoltaic Electricity Generation
System (PVEGS). This project presents Battery Monitoring Performance in PVEGS.
This PVEGS consist of 4 basics elements, which are PV arrays, loads, charge
controller, auxiliary energy system and battery banks. This project shows the
important of battery monitoring in PV EGS. Energy storage is a fundamental and
critical part of any practical PV system, and involves the storage of excess PVgenerated
power in a form suitable for use during periods when the solar input is
insufficient to support load demands. A monitoring mechanism is designed by using
simulation in Pspice and Arduino microcontroller board. This project emphasize on
battery monitoring based on voltage, current, age and functionality of each battery in
battery bank.
Actions (login required)