EMI ZURIMA BT ISMAIL, EMI ZURIMA (2011) Method Of Locating Failure Of Street Lighting. [Final Year Project] (Unpublished)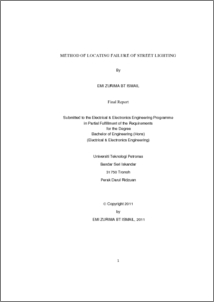 Preview
PDF
EMI_ZURIMA_BT_ISMAIL_9136.pdf
Download (968kB)
Abstract
Street lighting is a part of the distribution system. These facilities were owned,
installed, operated and maintained by the utility supplying electricity which is
Tenaga Nasional Berhad (TNB) or local municipal. This purpose of this report is to
discuss about the project and the method of locating failure street lighting lantern
by using measurement at the control panel. The report starts with the objective and
scope of study. The possibilities of this project have been discussed and the
problem statements that lead to the idea of the project have been identified. The
system of street lighting and the theory on how the system functioned also
included. The method of locating failure street lighting has been discussed in the
literature view. In methodology part, the planning of this project has been shown
and the Gantt chart has been drawn. Then, the result and discussion were discussed
in chapter 4. Finally, chapter 5 explains about the conclusion and recommendation
of this project.
| | |
| --- | --- |
| Item Type: | Final Year Project |
| Departments / MOR / COE: | |
| Depositing User: | Users 5 not found. |
| Date Deposited: | 11 Jan 2012 12:23 |
| Last Modified: | 25 Jan 2017 09:42 |
| URI: | http://utpedia.utp.edu.my/id/eprint/733 |
Actions (login required)