Mohd Azuan bin Mohd Azlan, Mohd Azuan (2009) Design of Composite Stairs in UTP Academic Blocks. Universiti Teknologi Petronas, Sri Iskandar,Tronoh,Perak. (Unpublished)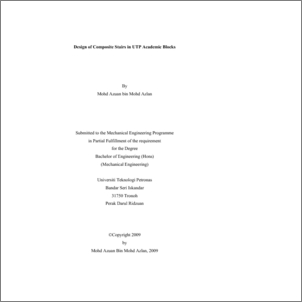 Preview
PDF
Mohd_Azuan_Bin_Mohd_Azlan.pdf
Download (14MB)
Abstract
his report basically discusses the research done on the proposed topic, which is Design
of Composite Stairs in UTP Academic Block. The objective of the project is to design
and analyze the proposed composite stairs structure using glass fiber reinforced plastic,
specifically glass fiber reinforced epoxy, GRE. LAP software will be platform for the
first phase to determine the suitable thickness of the components under the maximum
tensile and compressive loading situation, by the use of core (sandwich laminate) and
without core (pure laminate). Next, fabrication process of the stairs components using
the state of the art Vacuum Infusion Process (VIP) will be designed that suits the design
shape. Specific tooling and equipments for the purpose are identified where the process
route would be different between the sandwich laminate and pure laminate. Few
procedures are created and investigated for the least cost and material used to produce
the whole stairs. In the end, a sample will be produced and will be tested for flexural
strength. The sample's actual thickness and flexural strength then will be used again for
re-analysis in LAP to get the new laminate thickness and number of layers. The
components' design likely to be nine rectangular tubular shape of specific dimension,
assembled as stairs which has three steps. Final thickness value for sandwich laminate is
8.12 mm and for without the use of core, the value is 5.72 mm. Designed fabrication
route starts with VIP, cutting process using diamond cutter machine and assembly by the
means of epoxy adhesive.
Actions (login required)