Mohd Fazril Irfan bin Ahmad Fuad, Mohd Fazril Irfan (2009) Thermal Spray Coating for Corrosion Under Insulation Prevention. [Final Year Project] (Unpublished)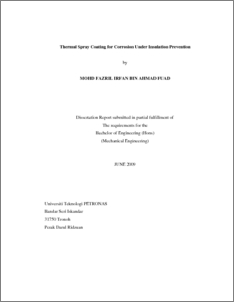 Preview
PDF
MOHD_FAZRIL_IRFAN_BIN_AHMAD_FUAD.pdf
Download (2MB)
Abstract
orrosion under Insulation (CUI) is one of the predominant mechanical integrity issues
affecting the industry. CUI refers to external corrosion, but it is difficult to detect
because of the insulation cover that masks the corrosion problem. One of the options to
prevent corrosion under insulation is by protective coating systems. Thermal spray
coating (TSC) is an advanced coating system and shows promising performance in
harsh environment and could be used for preventing CUI. However, the application of
TSC is not attractive due to high initial cost. The project focused on evaluation of TSC
based on corrosion performance using linear polarization method, salt spray test and
evaluation of coating mechanical performance using adhesion test, bend test and
microstructure characterization of the coating. For the salt spray test, there was no sign
of corrosion products especially at the center (fully coated region). TSC protected the
steel satisfactorily, whether by barrier effect and by cathodic protection. Under
Scanning Electron Microscope (SEM) TSC did not show any corrosion defects after
336 hours of continuous exposure to salt fog test which means the coating is a perfect
barrier from corrosive environment. The LPR test results showed that the TSC yields
low corrosion rate of 0.05mm/year compared to the bare steel especially at high
temperature 80 oC where usually normal coating fails. In conclusion, TSC was
evaluated technically acceptable for long term protection of corrosion under insulation.
Further research should be done on corrosion performance and life cycle cost by
comparing the TSC with conventional coating.
Actions (login required)