Halimatulssaadiah binti Wan Jusoh, Halimatulssaadiah (2009) Preliminary Study on the Electromechanical Characterization of Commercial Lead Zirconate Titanate Piezoelectric Ceramic Materials for Flying Micro Robot Actuators. Universiti Teknologi Petronas, Seri Iskandar,Tronoh,Perak. (Unpublished)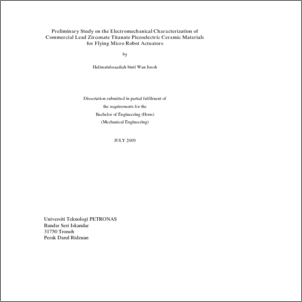 Preview
PDF
Halimatulssaadiah_binti_Wan_Jusoh.pdf
Download (1MB)
Abstract
The objectives of this project are to compare the characteristics of several commercial ceramic disks of Lead Zirconate Titanate as well as to measure the piezoelectric coefficient, study the microstructure and the correlation between the microstructure and the piezoelectric coefficient so that we can come up with the best ceramic disk for the Flying Micro Robot Actuators application.
Currently, there are a lot of commercial Lead Zirconate Titanate piezoelectric ceramics offered in the market that are broadly used as mechanically resonant oscillators in electric circuitry, as electromechanical transducers such as underwater sound detectors and also as actuators in micromechanical flying insects.
In addition to the simple mechanical structure, other beneficial general properties of piezoelectric actuators that are suitable for a Flying Micro Robot Actuators are; a short response time, an ability to create high forces, a high efficiency and a high mechanical durability. On the disadvantage side, piezoelectric actuators have small strains: only 0.1-0.2% and a high supply voltage are needed – typically between 60 and 1000 Volts.
Keywords for this project would include piezoelectric ceramic, resonance, pressure sensor, impedance, Lead Zirconate Titanate, piezoelectric coefficient, flying micro robot actuators and microstructure.
Actions (login required)