Wan Mohd Safwan Bin Wan Mazlan, Wan Mohd Safwan (2006) Development of an External Laptop Cooler with Thermoelectric Device. [Final Year Project] (Unpublished)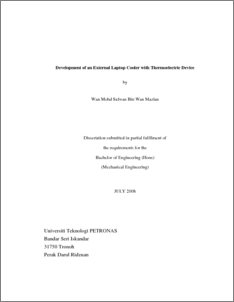 Preview
PDF
Wan_Mohd_Safwan_Bin_Wan_Mazlan.pdf
Download (1MB)
Abstract
One of the major problems among laptops is overheating. Overheating laptop can give
numerous effects in term of performance and stability: performing poorly which lead to
lagging and freezing experience to the user or even crashing the system and caused
hardware fatality. Laptops are basically equipped with internal cooling system in order
to keep the temperature as low as possible. However, the internal cooling is simply not
enough especially when the laptop undertakes simultaneous tasks or processes. Although
various external laptop coolers are available in the market, they are yet to be a promising
solution to the overheating problem. The objective of this research project is to develop
an alternative design for external laptop cooling to overcome the overheating problem.
The proposed cooling system contains of two main parts. The first part, which is the cool
air feeder, thermoelectric device is used to control the temperature of intake air into the
laptop internal cooling system. The second part, which is the external exhaust blower, is
located at the exit point of laptop ventilation system to assist and increase the air flow
rate. The effect of laptop overheating is studied through experiment of induced
overheating and performance of the laptop. To install the thermoelectric device on the
proposed cooling system, the characteristic and handling of the device is analyzed. The
prototype casing of the cooling system is designed so that compatibility with various
models of laptop is not an issue. The prototype has been tested and comparison with
existing cooling solution has been made. Recommendations for future development have
been discussed.
Actions (login required)