Khairil Nizam Bin Mohamad Darus, Khairil Nizam (2010) Palm Waste Briquette & Bio-Briquette As Potential Fuel. [Final Year Project] (Unpublished)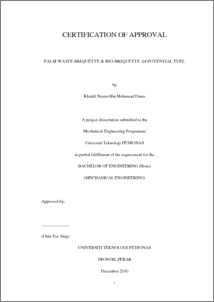 Preview
PDF
PALM_WASTE_BRIQUETTE_&_BIO-BRIQUETTE_AS_POTENTIAL_FUEL.pdf
Download (1MB)
Abstract
Excessive amount of Greenhouse Gas (GHG) emissions has increase global warming and is threatening our world right now. Fossil fuel burning for power generation is one of the major sources of those hazardous gases. Considering the current situation, a lot of study on the utilization of biomass to be used as alternative fuel is currently going on. This study is considering the utilization of palm shell and fibre to be used as fuel or either as supplement medium in coal co-firing power plants. Co-firing with biomass is one way to counter the excessive GHG emissions problem since the amount of carbon dioxide (CO2) produced from combustion of biomass is equal to the amount of CO2 absorbed during plant growth.
This report started with brief introduction of the study which includes the background of study, problem statements and objectives of the study. This report also includes some information in literature review parts where the author explains thoroughly on biomass, advantages and disadvantages, coal and co-firing. The author is considering three cases in the study which are:-
 Case 1: 100% Brown Coal
 Case 2: Bio-briquette – 50% Coal + 50% Palm-waste
 Case 3: Palm-waste briquette – 60% Shell + 40% Fibre
The report continues with the methodology of the project which includes the project milestone, work flow and details on tools and equipments used in the project. Next, results and discussion part is where analysis of ultimate and proximate results, and also analysis on calorific values of the samples are gathered. The main part of the project which are the results from modelling and simulations of the fuels combustions are also included in this section.
The report then followed by conclusions and recommendations from findings and analysis that had been made. For further clarification on the projects, the report ended with a list of references and appendices used throughout the project.
Actions (login required)