Yee , Yuan Bin (2009) Design of Control System for Quadruped Robot (4-Legged Robot). [Final Year Project] (Unpublished)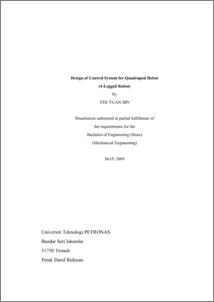 Preview
PDF
YeeYuanBin_8553.pdf
Download (5MB)
Abstract
The project outcome is to design a control system for quadruped robot (4-legged
robot). Early 2007, a quadruped robot was built by an UTP graduate; Mr. Tnay Chiat
Siang (Matric No. 6114). The quadruped robot is well constructed in mechanicalwise;
however, it has never been able to move as there is no motor driver and control
system being developed for it. Therefore, the author has decided to come in on Mr.
Tnay Chiat Siang's quadruped project and continue his work to develop a control
system which will eventually drive the quadruped robot to perform crawling gait on
flat and horizontal ground. The control system of quadruped involves gait control,
stability control and motor control. This project is split to three phases. The timeline
of each phase is that phase 1 is carried out at semester FYP 1 while phase 2 begins
during the year-end semester break. Phase 3 is commenced during FYP 2. The work
aspect of phase 1 is on schematic design and crawling gait planning of quadruped. A
preliminary simulation is used to demonstrate the planned crawling gait. The focus of
phase 2 is more on learning how to manipulate PIC microcontroller and servomotors.
At last, phase 3 is the prototype fabricating and testing stage with the presence of
servomotors and circuit board. At the end of project, the quadruped prototype is
meant to perform forward crawling gait on flat and horizontal ground.
Actions (login required)