MOHD ZUL AKMAL BIN ZAINAL ABIDIN, MOHD ZUL AKMAL (2011) Design of Modular Fixture for CNC Machining Center. [Final Year Project] (Unpublished)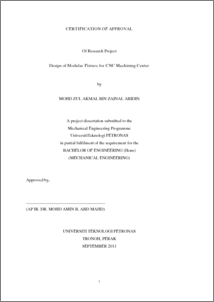 Preview
PDF
Table_of_Contents.pdf
Download (270kB)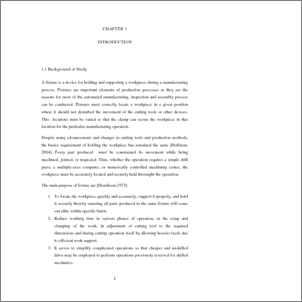 Preview
PDF
FYP_Full_Report.pdf
Download (2MB)
Abstract
Recent practice to clamp workpiece for Mazak Variaxis 630 5x II is impractical since different clamping component or fixture is installed repeatedly such as jaw chuck and movable vise to clamp different shape of the workpiece. This practice has increase the setup time of the machine as it covers installing and uninstalling of the fixture. Therefore, in order to reduce the setup time of the machine, a new fixture is to be design to clamp variable shapes and dimensions of the workpiece using the same fixture.
To accomplish such criteria, a fixture with higher flexibility is needed where modular fixture suits with this kind of situation. Modular fixture is a workholding system which uses series of equipment like locators, supports, clamps, risers and other available equipment that can be attached to the fixture table. Modular fixture has high flexibility since the equipments can be positioned according to the shape and dimension of the workpiece.
The first step in designing a fixture is to determine the shape and dimensions of the workpiece. Then, the external forces need to be calculated where the cutting force and cutting torque are to be determine. After external forces are evaluated, the planning to position the equipment such as locator, support and clamps are performed. This is important elements in modular fixture are the layout planning of the modular equipment to ensure the workpiece is fully constraint when subjected to external forces such as 3-2-1 locating method.
After fixture planning is done, the design concept is generated by using several methods such as conceptual decomposition, functional decomposition, and morphological chart and lastly Pugh's concept selection to select the best and practical concept. Then, the design is analyzed especially the clamping force of the clamps.
Material selection process is performed after the analysis of the design is done. Next, manufacturing process is planned using the selected material and the dimensional tolerances of each part of the fixture. Then the final result is the detail design of each part is performed.
Actions (login required)