Muhammad Afif bin Ilham, Muhammad Afif (2011) Design and Analysis of Run-of-River Water Turbine. [Final Year Project] (Unpublished)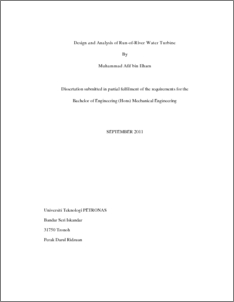 Preview
PDF
MUHAMMAD_AFIF_BIN_ILHAM_(10802)_DESIGN_AND_ANALYSIS_OF_RUN_OF-RIVER_WATER_TURBINE.pdf
Download (2MB)
Abstract
This paper discussed on the project entitled, "Design and analysis of run-of-river water turbine". It consists of project background, objectives, problem statements, and the relevance of the project, literature reviews, and the methodology which is the flow of the project and finally the result and discussion before the conclusion. In this project the author design a run of river water turbine and analyze the power that can be generated by the turbine.
The study is about gathering all possible information about river water turbine for further studies which will lead to the result of the design of the water turbine and the power generated by the turbine. The main objective of this project is merely to prove that the author's design of the vertical axis run of river water turbine can generate power in form of electric. Water turbines can be classified depending on the direction of rotational axis relative to water flow direction. Axial flow water turbines have their axis of rotation parallel to water stream direction. Other turbines such as cross flow water turbines or Darrieus type water turbines (from Jean-Marie Darrieus, inventor of first vertical axis wind turbine, have rotational axis perpendicular to current direction. A vertical-axis turbine is able to extract power from any direction without adjustment.
At the end of this research, the conclusion that can be obtained is the run-of river water turbine can generate power. In order to provide such conclusion, the data that need to be considered are the river water velocity, the cross sectional area of the augmentation channeling, and the height of the augmentation channel that would be immersed in the water.
Actions (login required)