Mohd Saufi, Mohd Soffian Ariff B (2009) An Experimental Study on Strength of Friction Stir Welding. Universiti Teknologi PETRONAS. (Unpublished)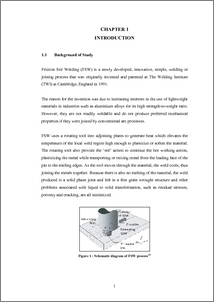 Preview
PDF
dissert.pdf
Download (1MB)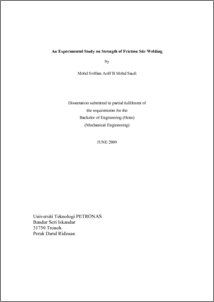 Preview
PDF
front_material.pdf
Download (96kB)
Abstract
Friction Stir Welding (FSW) is a new technology that has shown great potential and
promise as a method of joining process, particularly for lightweight materials as they
are not generally weldable. But being a new technology as it is, there are not much
information or extensive studies regarding the process. Thus, in order to study the
strength of FSW, this paper will briefly describe the problem statement, objectives
and scope of the project, information regarding the literature review that the author
had done in various scopes. Such as, the theory of the strength of the friction stir
welding, the theory on the rotating pin tool which include technique and machines use
for fabricating the rotating pin tool and, the machine use for perform the experiments
and analyze the end-product, the application of the friction stir welding in the
industry, and the advantages and limitations of the process. Also included in the
report are the methodology for the experimental study that the author performed on
completing the project, results and findings during the experiments, recommendation
for the improvement of the project and lastly conclusion.
Actions (login required)