MONARSHAH, MUHAMMAD ALFIAN UMAR (2015) MATERIAL FLOW BEHAVIOUR DURING FRICTION STIR WELDING (FSW) OF NYLON PLATES. [Final Year Project] (Unpublished)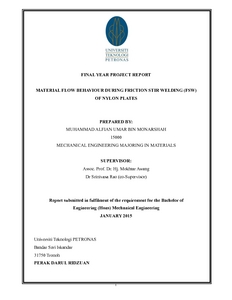 Preview
PDF




EDITED DISSERTATION.pdf


Download (5MB) | Preview
Abstract
Friction stir welding (FSW) have vastly experimented on thermoplastic material due
to its wide engineering applications. FSW technique results in the material having low
distortion and high joint strength as compared with other joining techniques. The purpose
of this paper is to investigate the material flow pattern during FSW on Nylon -6 and
conduct assessment on the effect of process parameters in the flow pattern. The method
used to detect the material flow is by slotting blue-colored markers along the groove
made prior the FSW process. The markers used were Paraffin Wax and blue-coloured
Nylon material. Results show that although material flow can be seen, the blue colour
makes up almost the entire stir zone. This makes it difficult to see the flow pattern of the
blue coloured marker thus further improvements is needed on this technique. It also can
be concluded that the material flow is influenced by the pin profile as well as process
parameters. This paper shows that at different feed rates, the Nylon material shows
different appearance that contributes to different material flow pattern.
Actions (login required)